Excavator / Bobcat special $1295 for both machines!!
At Shift our class numbers are small to enable you to gain the necessary skills and plenty of practical experience to bring you up to industry standards for the safe operation of earthmoving machinery - start your way to a career in the construction and earthmoving industry now!
As an RTO (Registered Training Organisation) in our own right (RTO ID 41589) - we issue the certificates upon completion of the course.
ALL RII MACHINERY TICKETS/LICENCES are NATIONALLY RECOGNISED.      
Need a combo licence?  Machine and Truck Licence
Why not combine your Excavator, Bobcat and Truck licence. We have great offers to get you on the way to a career in the civil construction industry.
What Qualification will I receive?
This course is Nationally Recognised and forms part of the Certificate III in Civil Construction Plant Operation. Depending on what machine you train and be assessed in will determine the unit of competency that will be issued to you, take at look at each unit below.
Units of Competency (click the links below to check out the complete unit)
RIIMPO318F: Conduct civil construction skid steer loader operations
RIIMPO320F: Conduct civil construction excavator operations
Course Outline
The courses are competency based training where the students can complete both the formal and informal requirements of the ticket / licence at Shift Training's facility or on your site.
The course includes:
3 days training and assessment

In class learner guides (available to purchase $30 each)

Additional training may be required at no extra cost to achieve competency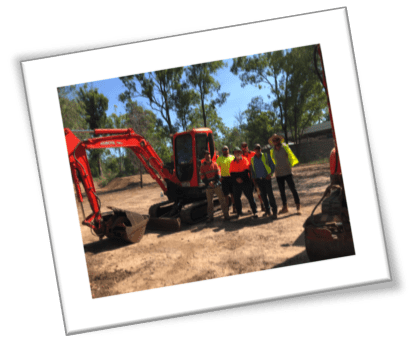 All courses cover a wide range of aspects including WH&S guidelines, documents/permits, basic maintenance and servicing, operational skills, weights/chains/slings, shut down procedures.
Course Requirements
Be able to read and write basic English so as to be able to sit the written test and read Site and Safety Instructions at the Workplace (Workplace Health & Safety requirement)

Provide 2 forms of Identification (eg. Drivers Licence – Passport – 18+ Card – Medicare Card)

Wear steel cap, work boots or enclosed non-slip footwear

We provide sun screen protection – but please wear long sleeves, hat and boots.
 Assessment
Participants who demonstrate competency by passing both the theory and practical assessments will receive a nationally Recognised Statement of Attainment from Shift Training P/L - Registered Training Organisation - RTO ID: 41589.
Course Dates and Times
Call us for our next course dates and times.
Minimum course numbers apply or training may be cancelled or rescheduled at anytime.
Download a copy of our Participant Handbook
Unique Student Identifier              
Every year, an estimated three million Australians build and sharpen their skills by undertaking nationally recognised training. From 1 January 2015, all students doing nationally recognised training need to have a Unique Student Identifier (USI).
A USI is a reference number made up of numbers and letters. Creating a USI is free. It creates a secure online record of your nationally recognised training that you can access anytime and anywhere, and it's yours for life.
For more information or to create your own USI click here.
Verification Of Competency (V.O.C.)
If you need a V.O.C. or onsite training and assessment we come out to your site.
Current industry regulations require employers and 'persons conducting a business undertaking' (PCBU) to ensure their workers can clearly demonstrate their ability to perform the tasks related to their job role when plant is used.
A Verification of Competency (V.O.C.) is a method of assessment that can be used to demonstrate the worker's ability to operate equipment and/or undertake the responsibilities of these roles.
Shift Training will conduct VOC's with students that have a current machine ticket only. Call for prices.
At Shift we make getting your Machine Ticket as easy as 1,2,3..